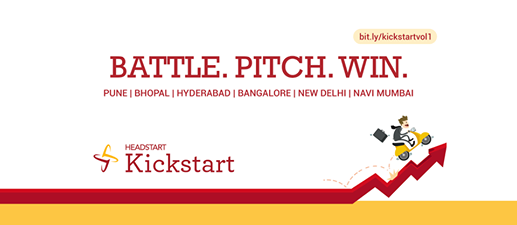 Kickstart Vol.1_Navi Mumbai
8th April 2017
4 Hours
Centre for Incubation and Business Acceleration, FCRIMS, 4th floor, Agnel Technical Education Complex, Sector-9A, Vashi, Navi Mumbai
Centre for Incubation and Business Acceleration, FCRIMS, 4th floor, Agnel Technical Education Complex, Sector-9A, Vashi, Navi Mumbai
Description - Here s your best chance to find out if you are investment ready.
Kickstart is an initiative by Headstart Network Foundation where startups pitch their ideas to a panel of judges and battle it out to convince the jury of their fundability quotient. After inviting applications, the startups are shortlisted after careful scrutiny by Headstart. On the day of the event, the startups battle it out in a fiery pitch session in front of a jury. The day ends with networking and the announcement of the winners.

What we are looking for in the Top 10 Startups:
1. Does the startup solve a big problem in a big, fast growing market?
2. How good is the traction?
3. Does your team have the vision and skills to become a market leader?
4. Does the product have a sustainable competitive advantage?
5. How is your idea influencing the society or making an impact in your target segment.
---